Distributor Top 10 Reason 6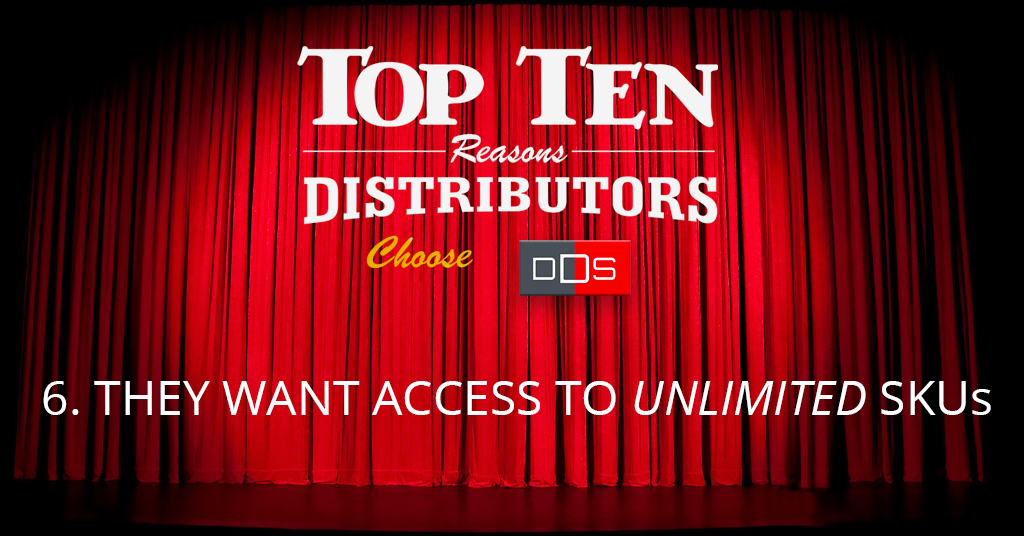 Jenny Christensen
October 8, 2020
Welcome to the sixth in our "Top 10 Reasons Distributors Choose DDS" series detailing some of the processes—and some of our philosophy—behind DDS' next-gen product content solutions.
As we enter the second half of our "Top 10" series, we've enjoyed sharing some insight into the technical realities around securing and working with e-commerce product content, and we hope these posts have been educational or otherwise helpful for those looking to start or "upgrade" their e-commerce offering. Today's post discusses yet another way DDS is committed to improving this experience for distributors—by helping them get more of their manufacturers' products added to their online catalog.
We hear from many distributors (especially those early into e-commerce) whose goal is to get 20,000 or 30,000 products on their webstore. While this may seem like a respectable (even "typical") amount relative to what others have done in the distribution industry to date, we believe those numbers are underwhelming, and more to the point, insufficient in terms of the customer experience. Simply put, if you're only offering product information on your website for a portion of the items you carry, aren't you (inadvertently) forcing your visitors to seek information on the rest of your inventory elsewhere?
Again, this is another aspect of the digital customer experience that is often overlooked—typically because of some of the industry-wide technical limitations we've discussed in our "Top 10" thus far. For many distributors, obtaining robust and usable product content for 20-30K SKUs from traditional data sources is a daunting enough task; the prospect of getting more SKUs, let alone their full inventory, online is just too difficult—especially right out of the gate. But this is another area where DDS is uniquely able to assist, and it is absolutely relevant to your bottom line.
With that, we are pleased to present the sixth Reason why distributors choose DDS for their e-commerce product content:
REASON #6: DISTRIBUTORS CHOOSE DDS BECAUSE THEY WANT ACCESS TO UNLIMITED PRODUCT SKUs FROM THEIR TOP MANUFACTURERS FOR THEIR E-COMMERCE CATALOG
We get asked often why our solutions are subscription-based, as opposed to a per-SKU pricing/delivery model. Our CONTENT/io offering is a Content-as-a-Service model because as any seasoned distributor will attest to, there is tremendous and consistent effort, and cost, involved with obtaining web-ready product content from hundreds of different manufacturers, then managing/organizing it for display on an e-commerce website, and then keeping it all maintained.
Per all the detail we've discussed in previous Reasons, it's not entirely surprising why more wholesale distributors don't have, or are struggling to develop, an e-commerce offering. But once again, it's the tools and processes that are flawed, not the content.
Some providers charge per-SKU for product content. If you want 100,000 products on your site, that can add up really fast. Worse still, those models don't include regular maintenance of product content, so the files, and the information within, are only as current as the day they're shared with you. When you need to request updated content for any/all of those SKUs, you pay again. (Yuck.)
Let's talk further about quantity of products. How many do you NEED for a successful online offering? The short answer is, it depends on your definition of success. The truth is, it's different for each distributor, depending on your landscape—what kind of lines you carry, what type of customers you serve, and what you're trying to accomplish. Are you just looking to serve existing customers, or do you also hope to gain new ones? What percentage of your business is project-based? What about any e-procurement preferences—or requirements—of government or institutional accounts?
Many distributors live by the 80/20 rule, where from a product perspective, 80 percent of a typical company's revenue is derived from 20 percent of its products or services. When translated to e-commerce, many assume that as long as they have their "top 20%" product set listed on their site, they have a sufficient inventory to make for a profitable sales channel. But remember—echoing Reason #2—it's not just about the transactions your site will facilitate. Again, having a larger volume of products on your site has important benefits, such as:
A larger breadth of offering to keep your existing and potential new customers from turning to the likes of Grainger and Amazon Business for product information, and ultimately, orders.
Search engines rank sites with a larger volume of quality content higher than those with less volume. Simply having more products (with robust information) generates more traffic while also ensuring your visitors can find the products and information they need.
Don't forget how valuable thorough, up-to-date product content can be from a sales enablement perspective. How much time can it save your sales staff, and your manufacturer reps, not having to visit three or four different manufacturers' (or competitors'!) websites to pull together spec sheets and application/warranty/other information for customers?
There's also the fact that an online sales channel can encourage certain types of orders (or specific items) that you might not normally see via your traditional sales outlets. For starters, many of our distributor customers note a general increase in the average number of line-items ordered online as compared to at their counter or via inside sales.
Here are a few specific examples from DDS customers showing the immediate effect that increased SKUs—with upgraded (DDS-sourced) product content—can have on online/e-commerce sales:
A medium-sized ($185M/yr) electrical distributor serving the U.S. Northeast came to DDS seeking upgraded content (and help managing it) for their existing site. We were able to help them go from 20K to 150K SKUs with outstanding content, and they saw an increase in online sales of 40% in the first 60 days.
A nearly $200 million/yr electrical distributor in the Midwest undertook a website refresh project, focused on upgraded content, to improve the customer experience. After just a few months, their online conversions were up 34%, with conversions among existing customers up 41%. They were also able to add additional products to their site through DDS, bringing their total e-commerce SKU count to more than 150,000 SKUs with high-quality data. They currently have an initiative to get all their non-stock items online by the end of this year, which will take them close to half a million products!
Another similarly sized ($180M/yr) plumbing, HVAC and electrical distributor in the northern Midwest was realizing less than .2% of sales via their original website. We helped them go from only having a few thousand products listed online to now having their entire 65,000-SKU inventory on their site. Since upgrading both their e-commerce platform and their content earlier this year, they have seen online sales multiply by a factor of 13, with four times more online orders, and a 25% increase in the number of line-items ordered, from their "digitally engaged" customers.
We're also working with one of the largest distributors in the country who desperately needed a better product content solution for their established (and highly complex) web presence. In just a few months, they went from a couple hundred thousand SKUs to close to five million!
Let's say you already have an e-commerce webstore and you have 25,000 SKUs on your site. How many SKUs do you stock? How many non-project-related SKUs do you regularly order? How many SKUs would your customers like you to have on your site? (Maybe all of your stock items and your important non-stock products and suppliers?)
On average, our customers typically jump from an initial 20-30K SKUs up to 150K SKUs on DDS' very first export to their site. We have customers leveraging well over a million of our products (DDS distributors have an average of 250K SKUs on their sites). This has everything to do with the fact that each of our customers has unlimited access to our more than five million next-gen products across 950+ brands.
And by the way, adding more of your manufacturers' products to your webstore should not be a painful or costly process. Working with the right partners can help you get more products—with rich, accurate content—listed on your site quickly and easily, giving you real competitive advantage.
When we source information from manufacturers, we get all SKUs (not just a select group of SKUs based on what one distributor, or even most distributors, carry). Logistically, it's just as efficient for us to ingest their entire catalog, but more importantly, we think distributors ought to be able to list any or all of that manufacturer's products on their sites, regardless of what they have in stock or which items they have or haven't sold. Because we offer this as part of our monthly Content-as-a-Service subscription, there is no added cost—but it certainly "pays big"—to get more of the manufacturer's catalog on your digital shelf.
Another key part of the ongoing service and value we provide, we are constantly adding SKUs and product lines as manufacturers make them available. Again, these are automatically added to each distributor's weekly export files, at no additional effort or cost to them.
While the bulk of our product content today comes from the Electrical industry (per our "roots"), we are actively and aggressively expanding to additional verticals in response to the breadth of lines carried by our distributor customers, as well as growing interest from manufacturers and buying groups in other industries.
We currently have more than five million products across more than a dozen industries (Electrical, Lighting, Solar, Plumbing, HVAC, Tools, Safety, Utility, Datacom, Industrial Supply, Automation, Industrial Gas + Welding, and Medical) … and counting!
We can also help you source additional manufacturers/product lines as needed. As mentioned in Reason #4, even if you're getting data through a buying group or an industry data subscription (or both…), there's a good chance you carry product lines that fall outside what is included from those sources (especially if you serve multiple industries)—and that you'd like to list on your webstore. Based on our customers' needs, many of whom serve customers in multiple verticals, we are sourcing more product lines on a weekly basis, and are very happy to reach out to additional manufacturers on your behalf to request their data so we can add it to your feed.
There's still more to come!
This "Top 10" list is part of our ongoing efforts to educate the industry as to the realities—and also the tremendous opportunities—involved with e-commerce product content. Reason 7 is coming soon, where we'll talk about how DDS helps you keep your product content maintained regularly—another critical element of the e-commerce experience.
Stay tuned for Reason 7!