Empower Your Digital Channel with Content Automation
As a manufacturer, one of the biggest data challenges you face is keeping all your distribution partners up to date. Companies often end up wasting invaluable time and resources on inefficient systems—and through multiple partners—for maintaining and transmitting product content, from ERP (master) product data to rich content and digital assets for e-commerce.
Whether your product content team is struggling to keep up with an overwhelming number (and formats) of data requests, or your distribution partners are displaying incomplete, inconsistent, or outdated product information, these issues can add up to bloated operational costs and lost revenue.
SYNDICATION/io was designed by distribution industry veterans specifically to solve these problems. Our product content syndication service helps you:
Empower your channel with quality product data. Deliver complete, consistent product content to all channel partners, regardless of industry or partner type.
Get to market faster. Deliver content to each partner in the web-ready format that each requires, in a fraction of the time it would take manually.
Stand out from your competition. Maintain consistent branding and market-differentiating messaging across channels through an improved ingestion process that doesn't limit or otherwise "commoditize" your data.
Unleash your content team and expand revenue opportunities. Minimize time spent on manual content management processes and free up your team to focus on revenue-generating efforts.
How Full-Channel Product Content Syndication Works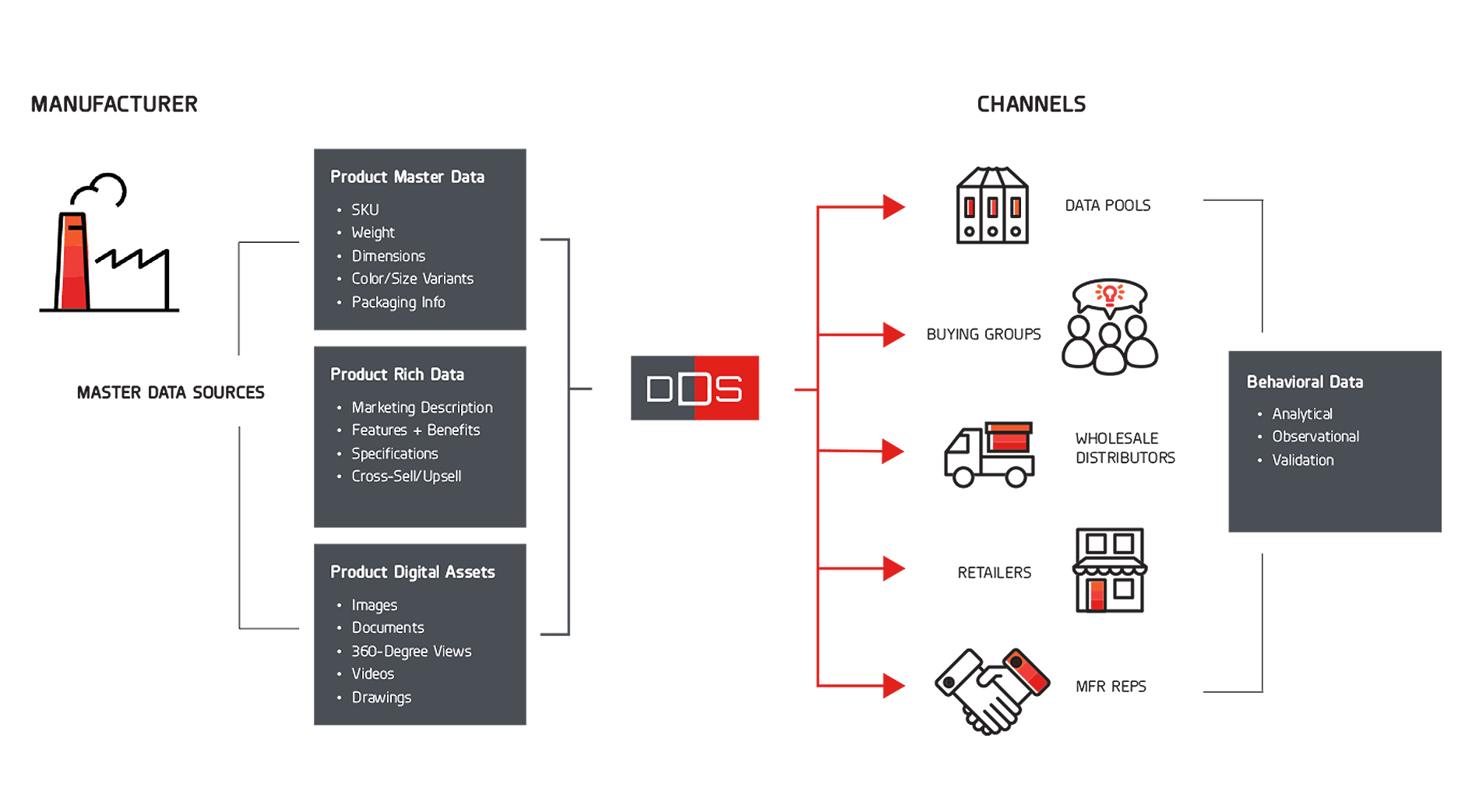 We ingest product content from you in a custom format—specific to your line(s)—to ensure your data is treated uniquely and delivered in full.

We don't alter the content, but we organize it for your partners' optimal usability and "prep" it according to e-commerce best practices.

We deliver product content to each of your distribution partners via custom exports designed for their individual e-commerce and other digital applications.

Both our ingestion and delivery processes are automated and scheduled (typically weekly) so that updates to your product content are picked up and added to partner feeds efficiently.
Additional Value-Add Product Content Syndication Services
We are constantly working with our manufacturer and distributor partners to enhance, develop, and introduce new ways to improve product content syndication specifically for the wholesale distribution industry.
Because we understand—and listen to—the evolving demands and challenges facing manufacturers around the world, we are constantly adding value through expanded product content syndication services to deliver unrivaled business results and customer satisfaction.
Flexible Data Onboarding
By adapting to your existing data processes (rather than requiring your organization to gather, consolidate, and populate all required product information, often from disparate internal systems), data onboarding time is reduced by months.
Data Health Analytics
Visibility into the health of your product content, based on industry best practices, gives you confidence that your channel is receiving consistent, quality product information.
Contact us to learn more about these and other innovative, value-add product content syndication services.
CUSTOMER SUCCESS STORIES
Customized, Automated Exports Streamline Panduit's Product Content Delivery
DDS' SYNDICATION/io service has eliminated the overwhelming ad hoc content requests plaguing Panduit's internal team by helping them deliver automated, tailored feeds to each of their distribution partners in the format that each requires.

Full-Channel Syndication Revitalizes Schneider Electric's Product Content Delivery
Read how DDS helped Schneider Electric dramatically increase their speed to market for consistent, quality content on distribution partner websites, while simplifying processes for both internal teams and their channel partners.
What Is Full-Channel Product Content Syndication?
How do you handle the increasing number of requests for your product content from a wide variety of channel partners—each needing the content in a "custom" format? Enter full-channel product content syndication.
READ FULL ARTICLE
Ready for faster, more efficient product content delivery to all channel partners? We can help with that.
Schedule a complimentary consultation to discover how our automated solutions can help you simplify processes and reduce time to market for consistent, current content across all your partners' websites.