About Panduit
With a proven reputation for innovation, Panduit continues to create leading-edge physical electrical and network infrastructure solutions across a wide spectrum of business environments. A customer-focused company, Panduit prides themselves on creating a continuous flow of new products, software, and solutions designed to help end users achieve their business goals.
Business Challenges
A renowned global manufacturer serving the electrical and datacom industries, Panduit came to a harsh realization after assessing the toll that product content requests were taking on their data team. They had been noticing a steady incline in the number of requests for data—both externally, from their distribution partners, and from internal departments—and most importantly, the amount of time it was taking their data team to fulfill them, so they decided to quantify it.
Over the course of a year, they tracked all internal and external content requests coming to the data team, tallying more than 650 unique (and completely ad hoc) requests for data, with each entity basically requesting it in a "custom" format.
It would take Panduit's data team anywhere from 10 to 20 hours to administer each of these requests, from selecting which data was relevant to each recipient, to formatting the data according to the "specs" of the party's platform or needs. (With 650 requests in a year, at an average of 15 hours per request, that's 187.5 hours per week—or enough to keep 4.7 people busy full-time!)
But the timing and scope of the requests were far from "regular," adding to the data team's challenges. Because each distributor and internal department had unique applications, needs and timeframes, the data team had little way of knowing who would need what, and when. With so much of the workload happening on an ad hoc basis, it made it all the more difficult with respect to planning.
All these challenges made for a growing source of concern, especially considering the data team was primarily tasked with improving their data, rather than fulfilling requests for it. With so much time being spent on the latter, it was infringing upon their efforts to further develop and enhance the product content that is so essential to their channel in helping market and sell Panduit's products.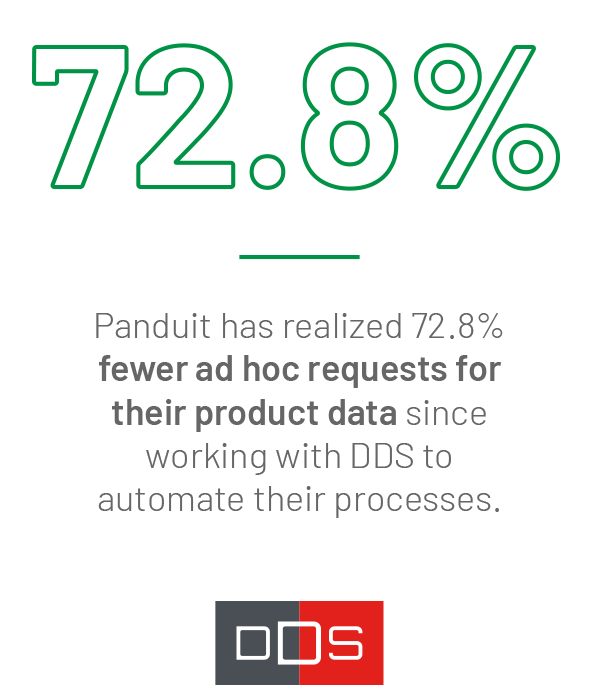 Why Panduit Chose DDS
Realizing their current system was inefficient and unsustainable, they recognized they needed to improve, and possibly offload, this process with a trusted and specialized data partner.
They also recognized that a more predictable and efficient process for disseminating their content would not only reduce the burden on their internal staff, but also their valued distribution partners. In line with their commitment to customer-focused solutions, Panduit is equally committed to improving solutions for their channel, so their partners' perspective was top of mind.
Panduit knew the time spent in-house on fulfilling data requests wasn't the only obstacle contributing to delays in getting their content up on distributor sites. They were well aware of the additional time and resources required by each distributor to prepare not just Panduit's data, but that of their hundreds (sometimes thousands) of other suppliers, for each of the different systems where it is ultimately needed. A given distributor could easily need three or more completely different file formats of their suppliers' data for various uses—for their ERP, their webstore, mobile apps, digital catalogs, and so on.
A tech-savvy company, Panduit didn't just want to "dump" their data into a massive repository, requiring each distributor to pull out what they needed—each time they needed it—and spend another 10+ hours manipulating the files to suit their specific ERP, e-commerce and other platforms.
(In their experience working with other data sources and providers utilizing these models, they had seen shamefully low adoption and usage stats, making it clear that if the system was too complicated and required more resources than the partner had available, it simply wouldn't happen.)
Each distributor, for example, spends an estimated 12 hours (per every 5 manufacturers or lines, and per instance) formatting disparate data from each supplier in order to upload it to their individual webstore platform.
Having come from the distribution industry themselves, this was precisely the issue that DDS' founders established the company to solve. While investigating DDS as a potential partner in their search, Panduit was impressed with how well DDS' solution "checked all the boxes"—and then some.
One of the things Panduit found most attractive about DDS' SYNDICATION/io solution was that DDS did all the "heavy lifting"—by way of formatting Panduit's data for optimal delivery—for each recipient. Providing their data in the exact format each partner (or department) needed would really simplify things, while making it much more likely to get done. They recognized the value this would provide their channel partners in terms of reducing resource requirements as well as speeding time to market for new and updated product information.
They were further impressed with DDS' innovative approach to automating every step of the process—from ingesting Panduit's data flexibly, around their current processes, to delivering it to each partner, on a regular, scheduled basis—to remove the ad hoc element entirely.
Another of their syndication requirements, Panduit was also providing their content to a few industry-specific data pools used by a large number of U.S. distributors. Delivering content to one industry's "official" data warehouse was always a difficult, time-consuming, and manual process for Panduit. They were relieved to find that we could assist with this effort as well, producing the eight-plus files required by the provider's system in order to upload their data.
All of this would certainly help to free up Panduit's data team to focus on their primary goal of improving product content to better serve their channel partners and ultimately their end customers.
Delivering Data World-Wide
As part of their global distribution efforts, Panduit also works with many distributors in Europe, as well as Sonepar and its vast network of OpCos. When several specific distributors in Europe, as well as Sonepar's Global PIM Team, started to require BMEcat files (with ETIM data) from vendors, Panduit started to build files and develop a process to satisfy this need. They had manually created a single file, at one point in time, with a few products for testing purposes, but they had no way of maintaining that, let alone providing it in different files, with different products, to different countries, with different BMEcat requirements. They were once again impressed to learn that DDS could help with this high-tech need.
Another major advantage to working with DDS, we already had an approved BMEcat export template, per our involvement and familiarity with ETIM, for the Sonepar Global PIM Team—plus, we are integrated into Sonepar's API to deliver data as an alternative to BMEcat—essentially giving Panduit two different methods for getting this data into the Global PIM.
Results
Engaging with DDS was a game-changer for Panduit. DDS' SYNDICATION/io service immediately helped eliminate the ad hoc content requests by delivering scheduled, automated, tailored feeds to their channel—in the format that each requires. Now each distributor knows to expect regular, seamless exports already formatted for their individual e-commerce platform. And Panduit staff no longer have to ask for content; they even set up regular feeds for internal departments and channel managers for sales purposes.
This has drastically reduced the time it takes for new or updated product content to get published to partner websites and other digital systems. What used to take some partners as many as six or more months, now takes as few as six days—thanks to automated processes, and virtual elimination of man-hours needed for post-manipulation of data files.
DDS has helped Panduit realize a true full-channel syndication solution.
We are a single-source provider who can help deliver their content to their entire channel—including both distribution and retailer partners, and across multiple industries—consistently and easily. We are even delivering their content to the "official" data sources serving some of those industries nationally, on an automated and scheduled basis, on their behalf.
On an international scale, DDS worked with Panduit and Sonepar's Global PIM Team to validate Panduit's content in three different languages, using the BMEcat and API, basically against Sonepar's (rigid) spec for required and expected content, which drastically improved their "proprietary content score" with Sonepar. This allows Panduit product content to be pushed from Sonepar's Global PIM Team to the 17 global PIMs across the Sonepar ecosystem, effectively enabling those products to be sold by all their OpCos.
Panduit now has a repeatable and scalable system for getting complete and consistent information to all partners quickly and efficiently. All of this has allowed Panduit's data team to focus on their mission—to consistently enhance and improve their product content—in order to better serve their distribution partners and end-user customers.

DDS has been extremely flexible and efficient at both ingesting our data and delivering it to our distributors.

– Andy Carlson, former Director of Digital Business, Panduit