About Springfield Electric Supply
For nearly a century, Springfield Electric Supply Company has focused on providing value to each customer throughout the electrical supply chain. Now with 19 locations in four states, they expertly serve customers across the Midwest, continuing the company's legacy of delivering exceptional customer service and value to the markets they serve.
Business Challenges
Since 1932, Springfield Electric has been serving the Midwestern U.S. through a long-standing commitment to providing value to customers throughout the electrical supply chain.  They have long been considered a trusted advisor to other distributor peers who look to them to lead the way in terms of technologies and processes to improve various aspects of business. Among the earlier electrical distributors to launch an online offering, they have been operating a successful e-commerce website for more than 15 years, and recently undertook a substantial re-launch to improve their site experience with a particular focus on product content.
Springfield had an established e-commerce presence but realized they needed better product content, as well as assistance in managing and maintaining it.
Springfield sought to update and modernize their website look-and-feel, aimed at further enabling customers to find the products and detailed information they were looking for more quickly and easily. This included taking a look at the quality of product content being displayed, as well as how users searched for information.
Since originally launching their site, there were also completely new types of content (such as videos and 360-degree images) that their page layouts hadn't been designed for, so they wanted to plan for that in the redesign.
As has been typical in their industry to date, Springfield was working with product content from a number of different sources, which presented several behind-the-scenes challenges. Most concerning, they recognized there were gaps in the data being delivered, not to mention it wasn't provided in a single format, resulting in a time-consuming and frustrating process for their staff, who were constantly "chasing data."
At one point, Springfield was trying to manage data from as many as five disparate "islands" of information, including both of the electrical industry's "official" product data warehouses, as well as from their own ERP, direct from manufacturers, and some additional internally sourced data.
As they came to understand all too well, getting the data is one thing, but successfully merging it all together and using it effectively is another. 
With data coming from each entity in a different format, a lot of legwork was involved in sorting through and preparing everything for uploading to their e-commerce platform, and of course matching the data to their product file to sync with their ERP. Where often information for the same products was included in multiple sources, this "data consolidation" process required de-duping of attributes, among other difficult work, which left Springfield's internal team to sift through the pieces to find the right answers. Suffice it to say, having to post-manipulate files through this legacy process in order to prepare it for integration to their webstore (and other applications) created a lot of work for their staff.

Why Springfield Electric Supply Chose DDS
In working closely with their manufacturer partners, Springfield recognized that the product content they were receiving through their dedicated industry data source(s) was incomplete. Data from many vendors was missing key information, which was problematic for Springfield, who wanted to be a reliable source of complete, current product information to add value and assist their customers in their research and procurement efforts.
Another concern with these industry-sponsored data sources was the substantial cost for Springfield to get additional SKUs added to their site, as they were pay-per-SKU—and therefore quickly cost-prohibitive—models. Further, these legacy "data warehouse" models require each distributor to go grab what data they need, when they need it, and do all the product file matching themselves, adding to the time and talent required to ultimately get content published to their webstore. (Springfield also has a mobile app, independent of their e-commerce site, which required the same data in another distinct format.)
All said, the process had become overwhelming in terms of getting, and subsequently managing, product content from a multitude of sources. With scarce internal resources to help manage this content (and especially the consistent, time-consuming burden of validating whether the data they were receiving was complete), Springfield was ready to turn their data management over to a third-party expert—a choice they preferred over hiring additional data experts. Enter DDS.
One of DDS' earliest distributor customers, Springfield "liked what they saw" and took a leap of faith on a new solution provider within the industry. Even early into the project, they were immediately impressed with the quality and reliability of DDS' content, as well as some extra-mile service in helping them actually use the data. DDS even assisted with their website aesthetic refresh with platform provider Second Phase, consulting heavily on the redesign of their product detail page layout to better accommodate DDS' "next-generation" product content.
Results
From its updated look and feel to its product content overhaul, Springfield's redesigned website has been a huge success on all accounts.
From the get-go, Springfield's data team recognized the superior quality and completeness of the information provided by DDS and were equally impressed with the more intelligent and efficient way it was delivered—starting with receipt of a single, automated and scheduled file, already formatted for their specific webstore, and already matched to their product file. No post-manipulation of files necessary.
Most importantly, since implementing DDS content, Springfield has heard consistently from customers and staff alike that the improved content—including more (and better quality) images, videos, 360-degree spins, and countless types of documents (spec sheets, installation guides, application and warranty info, etc.)—is helping them find and evaluate the products they're interested in faster, easier, and better than ever.
From a process perspective, DDS helped Springfield integrate the most robust, complete data available from multiple vendors, adding to the breadth of information on their site while reducing their resource burden. This influx of more and better data has helped optimize their website search to better serve not just outside customers, but Springfield's staff as well.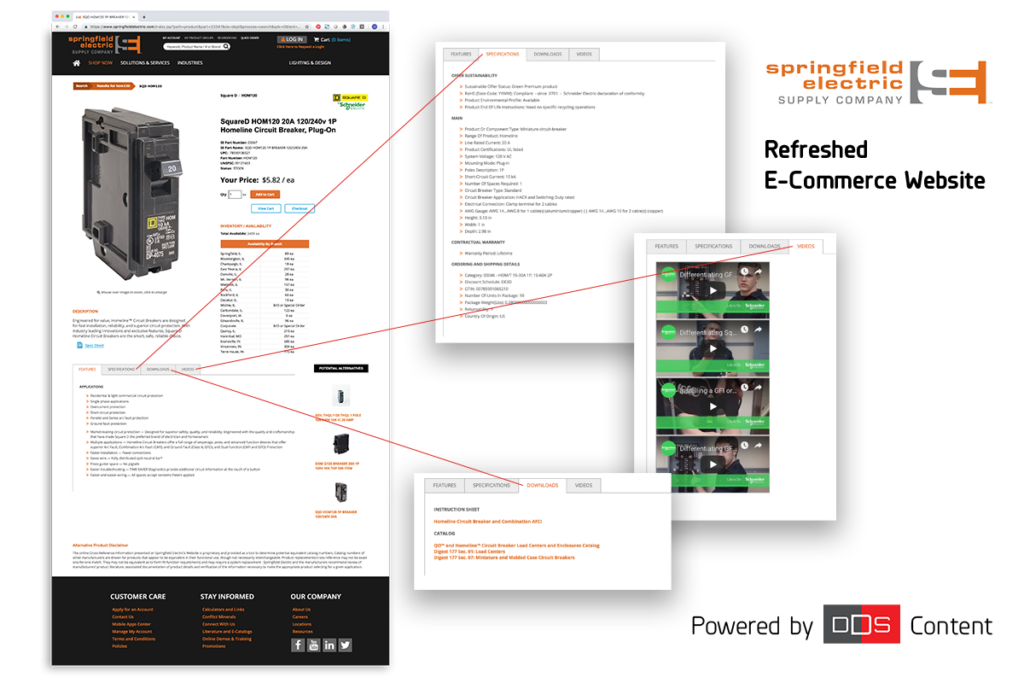 Best of all, DDS provides all this data in a single-source, customized format, already matched to their e-commerce and ERP systems, which eliminates added work for the Springfield team.
After just a few months employing DDS' content, Springfield's online conversions (sales) were up 34%, with conversions among existing customers up 41%.
Springfield was also able to add thousands of additional products to their site with DDS' assistance (and at no additional cost), bringing their total e-commerce SKU count to more than 140,000 SKUs with high-quality data.
Springfield was also able to integrate DDS' rich content into their mobile app, and even back-filled their ERP with the improved content, so that product imagery and spec sheets in their order entry system matched what was on their website, further enhancing sales processes.
Compared to prior experiences with product content, Springfield appreciates having both the delivery and management of content streamlined and automated so they can stay focused on serving customers.
By partnering with DDS as a third-party expert for product content, Springfield was able to re-allocate resources and utilize its team members' time to focus on other projects, not to mention onboarding customers and educating them on how to get the most out of their webstore and other digital investments.