About Schneider Electric
With a global presence in over 100 countries, Schneider is a leader in Power Management and Automation Systems, providing integrated efficiency solutions combining energy, automation and software. Schneider's commitment to Innovation, Diversity and Sustainability ensures that "Life Is On" everywhere, for everyone and at every moment.
Business Challenges
Prior to working with DDS, leading global manufacturer Schneider Electric was struggling with low adoption of their self-serve content portal for distribution partners, which had taken two years to launch. While their content itself was excellent, most of their partners were not using it, because to them it was just one of perhaps a hundred different portals or places they had to go get content from for their large manufacturer base. In the portal's first year, only two distributors had downloaded the content, and none of the partners had been willing to do the training necessary to use the tool.
Beyond that, due to the technology they were using, the content provider Schneider had been working with was manipulating the data (and altering the taxonomies) from Schneider because of limited storage capacity in their legacy database, which was designed for ERP and basic transactional data. All of this resulted in countless errors in the product content being passed to partners.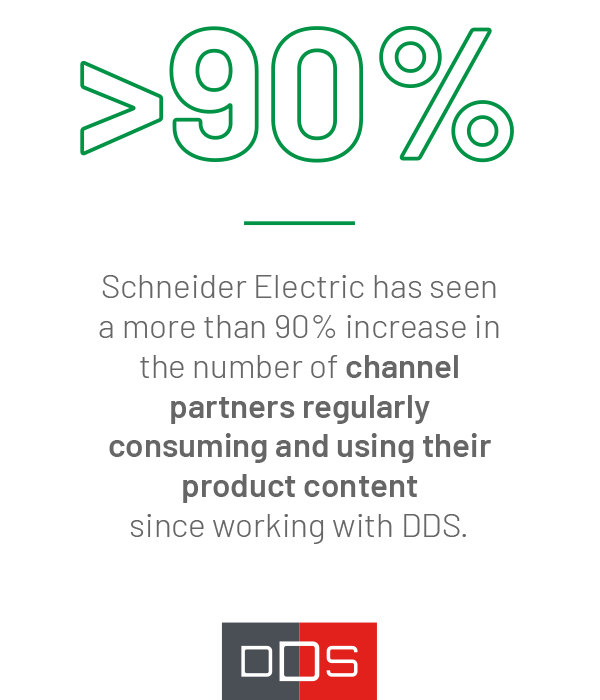 Why Schneider Electric Chose DDS
Having been in business for almost two centuries, Schneider has seen countless changes in the way commerce is conducted worldwide. In recent years, they saw more and more distributors ramping up their online presence and digital capabilities. The need to deliver comprehensive, media-rich data—in a usable format by multiple partners for various applications—became increasingly important in helping contribute to the success of their partners' e-commerce and online offerings.
Schneider recognized a need to "bridge the gap" between the extensive product content they had produced and made available, and what was ultimately being displayed on their distributors' websites.
After several months (and a lot of resources) into their engagement with another content partner, Schneider recognized some technical obstacles in that partner's process were limiting both the amount and the quality of the content that was being passed along to their distributors. They had spent a great deal of time and money producing impeccable product information, yet their data was either incomplete or "watered down" for the end-user due to the legacy technologies and processes being utilized by most of the content providers serving the industry at the time.
Schneider recognized this was a major problem that must be solved in order to continue to build successful partnerships with their channel and grow market share. They knew they needed a partner with better technology and better processes to help them navigate the challenges of a new era of commerce.
Not long into talks with DDS, Schneider knew they had found that partner. For starters, they appreciated DDS' completely unique approach to ingesting their product content, which DDS treated distinctly from other manufacturers'. This immediately allowed more types, and more volume, of information to be passed along than what they were used to with previous content systems. Equally important, they were blown away that DDS could provide their content to each of their priority distribution partners in the precise format needed for their individual webstore platforms, further mitigating any loss of data from manual manipulation of files.
Schneider Electric's e-commerce and data teams saw tremendous value in having DDS perform virtually all of the data management needed for the "last mile" of preparing content for integration to partner websites so that their hundreds of distributor and retail partners wouldn't be stuck with that burden. They also knew this would speed time to market for new and updated content significantly.
In addition, both the ingestion and delivery processes would be automated and scheduled, so that any changes to Schneider's content—which were fairly frequent, and another "wrinkle" in the overall content syndication challenge—would be picked up automatically in their weekly feed to DDS and added to each partner's outgoing exports.
Even early in, they saw DDS as a tech-savvy company that could not only syndicate their data effectively, but also eliminate the internal manual processes they had in place, which were tedious and slow. Schneider was elated at the prospect of no longer having to worry about constantly getting their up-to-date content to their distributors by maintaining deltas, NPI and obsolete products.
Results
With DDS' help, Schneider Electric is now delivering their product content consistently and efficiently to more than 75 distribution partners, with dozens more in the implementation stage.
Schneider has seen a more than 90% increase in the number of channel partners regularly consuming and using their product content (compared to 1% or less before working with DDS).
Among the reasons Schneider chose DDS as a new syndication partner, they appreciate the removal of tedious, manual processes around delivering content to their channel partners. They are no longer forced to manipulate the files they upload for syndication—"shoehorning" their data according to a standard template—but instead are able to use a format that seamlessly loads to any of the PIM or e-commerce platforms used by their vast distribution network.
Not having to generate exports of their product content also saves Schneider time and money, as DDS delivers custom-formatted and automated exports of their data that match the requirements of each distributor or channel. This allows their channel partners to receive Schneider's complete and up-to-date content in a usable (web-ready) format, helping them sell more products online and retain customers.
Not long after DDS began delivering content to some of their priority distribution partners, Schneider's data team asked us if we could also help deliver their content to one of the "official" data sources serving a primary industry of theirs. A requirement of that particular provider, Schneider's team was having to manually create a number of files on a regular basis in order to upload their content to a central data warehouse. DDS was able to manage that process for Schneider, treating the set of files like an additional partner feed, and exporting them on an automated schedule, for easier upload to the industry data pool.
The entire process by which DDS ingests and delivers content has completely eliminated the need for Schneider's distribution partners to make ad-hoc requests and ensures that they always have the most current and accurate content, with no additional resources required for either Schneider or its partners.
DDS has helped Schneider drastically reduce time to market for getting new or updated content published to partner sites. What used to take several weeks (or months) is now taking just days, with weekly automated ingestion and delivery.

DDS is not just night-and-day different from other syndication providers, they are on another planet.

– Mario Bernardino, Manager – Digital Customer Experience, Schneider Electric