About General Distributing
General Distributing Company is a fourth-generation family-owned industrial gas and welding distributor serving customers and local communities throughout the Intermountain West since 1948. An established group of true industry experts, they bring a valuable combination of personalized service and a solution-oriented mindset to consistently deliver products that help their customers be more productive, more efficient, and more profitable.
Business Challenges
A well-respected distributor of industrial gas and welding supplies, General Distributing Company has a reputation for bringing innovative ideas and a wealth of industry experience to customers and peers alike. With a long history of going "above and beyond" to serve their community's contractors and commercial businesses, they are committed to making it easier for customers to do business
with them.
A medium-size distributor with six branch locations—and an ongoing mission to grow visibility and sales—they were similarly determined to find the right solution for their online offering. They had been discussing e-commerce for a couple of years at the C-Level and recognized they did not want to be left behind, with the "Amazons" of the world quickly gaining market share for industrial products.
They had set up an e-commerce portal through their ERP provider that helped them recognize the need for better content to aid users in their search for products. While it was a step in the right direction, General Distributing was ready for a comprehensive solution that would scale for the future.
Meanwhile, with more and more of their customers asking for product information online, detailed content for hard goods was… hard to come by—especially in digital format—while nothing at all existed for gases, which accounted for significant portion of their business. Finding a solution for this two-part content problem would not only drive sales by facilitating customers' product procurement efforts, but it was something in dire need within the industry, which was begging for a solution.
In short, General Distributing recognized that a strong e-commerce presence would allow them to achieve multiple objectives. To this aim, they began to evaluate options and build a strategic plan to execute on this initiative.

Why General Distributing Chose DDS
General Distributing recognized the magnitude of obstacles they faced in acquiring product content specific to their business, as well as their lack of knowledge and resources needed to ingest the content, match it to their product file, and then import it to their e-commerce platform—on a regular basis.
Understanding that content is a critical aspect of the online experience, and that they didn't have (nor did they necessarily want) the skillsets to take it on in-house, they began to pursue alternatives. They saw the potential advantages in looking for third-party vendors with experience and expertise in specific solution areas to guide them through this significant undertaking.
Through extensive organic research, they were introduced to DDS, an established expert in e-commerce product content solutions within the wholesale distribution industry. Not only did DDS live up to their positive reputation, but the quality of their content, and the way they helped distributors manage it, were immediately apparent. DDS introduced General Distributing to ES Tech Group, who had a powerful and easy-to-use e-commerce platform called EvolutionX, and who had already partnered with DDS for product content in C&I verticals like Electrical, Plumbing and HVAC.
Through an official Proof of Concept, General Distributing confirmed DDS' ability to source more of the rich multi-media product content, from more of their key suppliers, than they could get through other providers or source themselves. They were equally impressed with the EvolutionX webstore, which promised to meet (if not exceed) expectations for their e-commerce and overall growth initiatives.
On top of that, they found both companies' capabilities to be very much aligned with their vision of working with experts in their respective fields—technology providers who had already figured out critical pieces of the puzzle—an approach for which they had full commitment and buy-in from the highest level of the company.
With that, General Distributing banded together with seven other forward-thinking distributors, taking the lead to procure a combined commerce and product content solution that would "check all the boxes."
A GOOD EXPERIENCE FROM THE START
Early into working with DDS, the General Distributing team knew they had made the right decision. DDS had either built or utilized an array of superb tools and resources to make the process easy on them, while offering a lot of education and guidance along the way.
Where other solutions they had researched would have required General Distributing to manually pull the product information relevant to their individual catalog from a central repository, DDS' CONTENT/io (Content-as-a-Service) solution provides custom-formatted exports tailored to each distributor's unique webstore and other business systems.
Not having to manually match all their suppliers' products with their unique product IDs (and then transform the data into the specific format required by their e-commerce platform), would save an estimated 46 hours of work each month.
General Distributing also appreciated the ongoing relationship and support they were already realizing through DDS' CONTENT/io service; this was far from a one-and-done model or DIY approach. They recognized this as another benefit of working with industry experts who knew what they were doing, who understood best practices, and who were going to take that burden off their shoulders.
An Extraordinary Challenge
With the general B2B e-commerce landscape heightening demand for product information online, General Distributing was all too familiar with the lack of detailed information for gas and welding products in the industry, especially in digital format. Product content was scarce to begin with—in some places, non-existent—which they saw as both a challenge and an opportunity.
Finding—or creating—a solution for this content problem would further solidify them as a thought leader and innovator, not to mention helping customers with research and purchasing decisions, which would ultimately drive sales.
As part of the discussion around improving their online offering, General Distributing wanted to address a specific need for access to product content for cylinder gases, which frankly did not exist. Like many of their peer distributors, gas sales are an integral part of General Distributing's business, yet nothing was available. Despite how critical these materials are in the marketplace, the industry was still relying heavily on print catalogs for basic information, which were mostly littered with "call for info" statements.
General Distributing recognized they would be missing out on significant revenue by not having cylinder gases listed on their sites, driving end customers to seek information and source these products elsewhere—i.e. from emerging online competitors' sites.
A key part of their website initiative, they were determined to find a solution for rich product content for cylinder gases. Shortly into working with DDS to source next-gen content for their hard goods, General Distributing consulted with them as the data experts they were proving to be. DDS knew just how to tackle the problem.
Taking what existing information could be found on these gases, from various print and other analog formats, DDS created meticulous product data, with comprehensive features and specs, for several hundred thousand completely original product SKUs to represent these gas variants for online display.
During this process, the team at DDS—always looking for ways to apply technology to improve the content experience—started thinking about how images might be created from this raw data, and they came up with a novel idea.
In short, DDS designed and developed a dynamic process for creating thousands of unique images to serve as the primary visual asset for these new gas SKUs—featuring a sleek design, inspired by the industry standard cylinder tank "shoulder labels," and even including the distributor's branding.
Most importantly, the images incorporate several key data points such as gas name(s) and state, as well as cylinder tank and valve styles, to further help users identify or confirm the right product at a glance.

Results
General Distributing now has a world-class EvolutionX webstore—with a handsome interface and robust search functionality for end users, and a powerful and massively scalable, yet easy to use back-end for internal administration—thanks to ES Tech Group. Their team worked closely with Computers Unlimited (CU) to complete the ERP integration, which is similarly benefitting many of General Distributing's peers, in less than a year.
A COMPREHENSIVE CONTENT SOLUTION
Recognizing how critical complete, detailed and current product information is to the online experience, General Distributing turned to DDS—as a proven expert in e-commerce product data—for a truly innovative product content solution. Not only are their customers benefitting from the highest quality product content available anywhere, but DDS takes the burden off their staff in obtaining it and keeping it updated, freeing them to stay focused on serving those customers.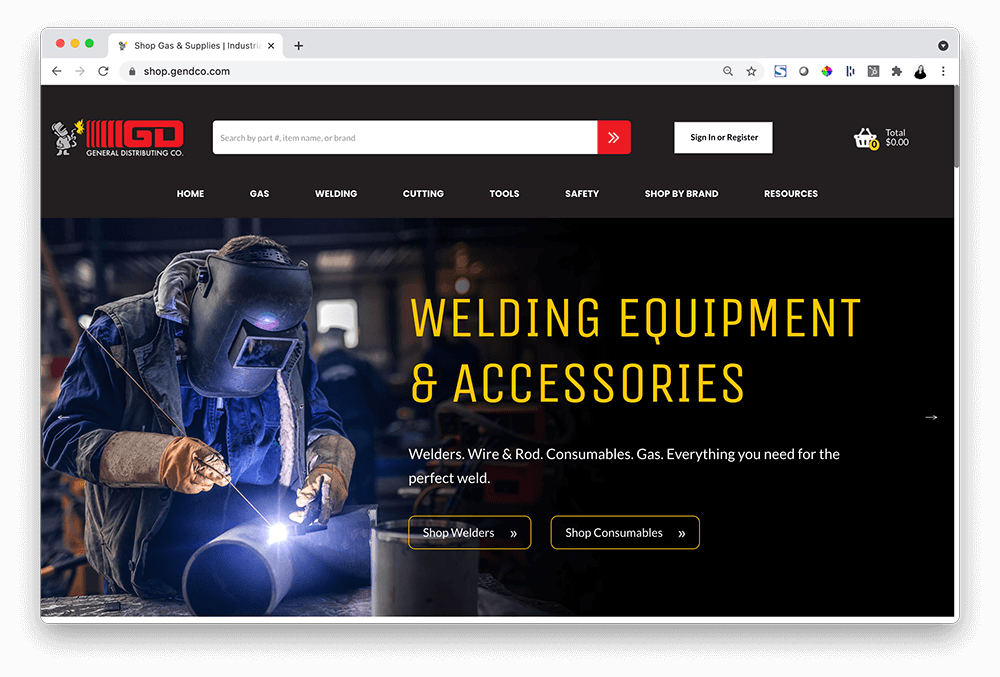 Three key elements of DDS' solution offering were especially helpful to General Distributing's success
CONTENT/io Manufacturer Outreach Program
DDS' Category Management Tool (CMT)
Creation of Rich Product Content for Generic Gases
By leveraging DDS' Manufacturer Outreach program—included as part of DDS' CONTENT/io service—General Distributing was able to launch their site with complete and media-rich content sourced directly from more than 100 manufacturers, which includes all of their most important hard goods suppliers. This allowed them to get an initial 4,000 unique product SKUs published to their site in just over six months. Considering it can realistically take several months to get complete—and usable—files from a single manufacturer (let alone dozens), this was managed for them in a fraction of the time it would have taken them on their own.
And as General Distributing continues to broaden the depth of products on their site, this ongoing process allows them to add more products—and more lines—quickly and easily, and without additional effort or cost.
The implementation timeline was further expedited and seamless thanks to DDS' familiarity with the EvolutionX platform, as well as their extensive knowledge of product data.
Early into the integration, DDS worked with CU to help them adapt several key data fields in their ERP to facilitate these distributors' evolving content and e-commerce needs and processes. This ultimately allows General Distributing (et al) to take full advantage of DDS' proprietary product file match capabilities, another fundamental part of the CONTENT/io service. An automated function of each regular (weekly) product content export from DDS, this eliminates the time-intensive process of General Distributing having to manually match all their manufacturers' products to their unique product IDs, saving them an estimated 12 hours each time content is delivered.
Further, delivery of product content in true "e-commerce-ready" format—already tailored to EvolutionX specifications—prevents them from having to regularly manipulate this content prior to uploading to their webstore. (DDS' existing content integration with EvolutionX also saved months of work and tens of thousands of dollars in setup, not to mention eliminating the need for expensive, third-party software for storing and managing the data.)
Another exceptional add-on to the CONTENT/io solution, DDS also provides a Category Management Tool (CMT) that enables product experts within General Distributing to categorize inventory according to their own unique taxonomy. This gives them control over how products are organized on their website, through an easy-to-use interface—another area where prior integration with the EvolutionX platform helped save time and potential pitfalls.
As the General Distributing team explains, "We picked a data company in part to help us understand some things we knew we didn't have an expert-level understanding of yet, and product category management certainly proved to be among those. Using DDS' CMT, we were able to categorize thousands of products over the course of just a few months. The tool gives us full control over how we want to organize and display our information, and has helped us better understand the importance of taxonomy."
Creating Novel Gas Content
Using their proprietary technology, DDS aggregated and developed original product content for cylinder gases from the best sources of raw information available. After consulting closely with General Distributing and several of their peers and other industry experts, DDS implemented an initial release of this content, and continued to engage with gas and welding distributor customers to gather feedback and further improve the data. This yielded tens of thousands of brand-new SKUs with incredibly detailed information.
DDS' innovative approach to product imagery for this previously "elusive" data set was like icing on a cake. While even the most progressive distributors' e-commerce offerings feature only "bare bones" content for these materials, General Distributing and their pioneering peers are the first to display such feature-rich content and helpful images to assist their customers like never before.
DDS' custom content creation for generic gas resulted in more than 12,000 working products (featuring more than 332,000 detailed attributes)—which are ultimately tailored to each distributor's inventory—in less than three months, with dynamic imagery being designed, developed and deployed in under four months.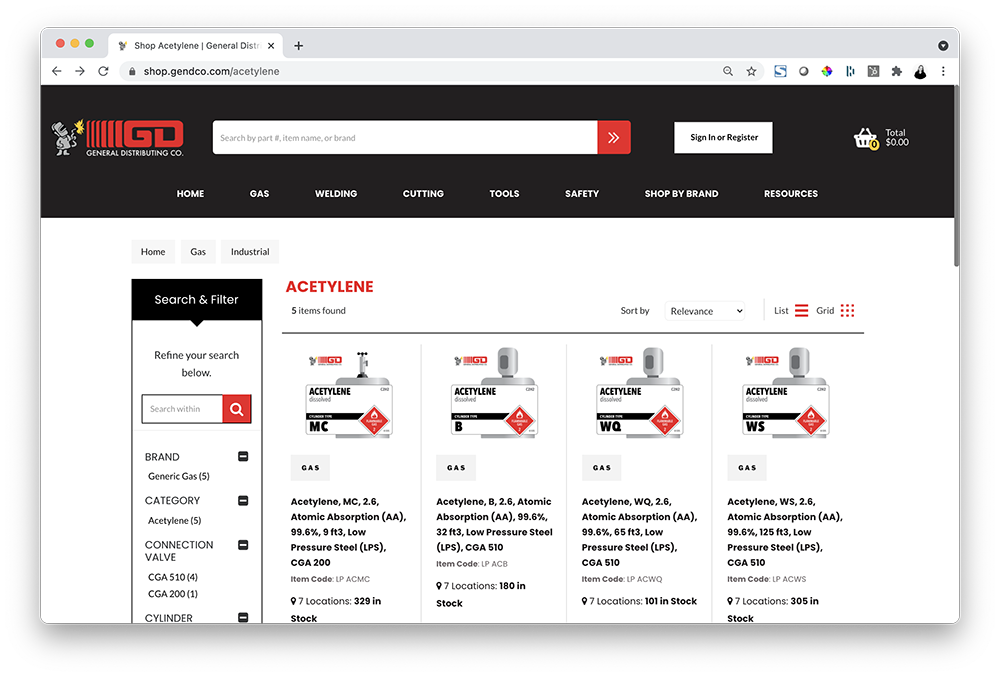 Ready for the Future
With an outstanding website and the most complete, robust content available in the industry, General Distributing is poised for tremendous success, both online and through traditional channels. Their solution is truly future-proof, thanks in large part to DDS' CONTENT/io service, which includes regular maintenance of product content to ensure their customers can always rely on them for current and accurate content across a diverse manufacturer line. And as new hard goods and cylinder gas products come to market, they can be added to their site efficiently, with the same quality of information and consistency of process.
Best of all, not only have they found a comprehensive solution that meets their needs, but it comes without the significant and consistent resource burdens typical with other solutions, which has positioned them to meet their strategic initiatives for providing an exceptional customer experience and ultimately driving revenue online.
DDS is making the entire process easy—helping us get all our manufacturers' content in a single format and integrated with our e-commerce platform. DDS was truly the best decision for General Distributing, and they are always available to walk us through our questions and guide us through best practices.

– Amy Dardis, Director of Marketing – General Distributing