Summary
A well-respected electrical distributor, Granite City's mission has always been to make their entire customer buying experience EASY. From their unique and thoughtful value-added, customer-centric services to their evolving online presence, they are truly committed to helping their customers. As part of a webstore upgrade initiative, they enlisted DDS to help them improve their entire e-commerce data process, creating a better experience for customers while also allowing them to focus on their core business.
An Evolving E-Commerce Offering
Granite City Electric had a successful e-commerce site but was looking to augment the customer experience by adding more of their inventory to the site, as well as improving the overall quality of content, to help customers find the right products and information more quickly and easily. But finding better data—more of the rich content and digital assets critical to their customers' research and buying needs—had proven to be a daunting task.
Having found themselves constantly chasing data for e-commerce, they also hoped to simplify or even offload some of their internal processes around getting content from hundreds of manufacturers and transforming it for their site, which required significant and ongoing personnel and technology resources.
Upon learning about DDS' next-gen content and delivery solutions, Granite City engaged with us as part of a major site refresh to add more products, along with better quality content, through a faster and easier delivery method.

Proof of Delivery
From the start, Granite City was able to take advantage of DDS' extensive next-gen content, sourced from hundreds of manufacturers and brands. In a matter of months, they were able to increase their online SKU count from 104,000 to more than 185,000 products, a 78% increase. This includes content from several manufacturers that Granite City specifically requested DDS reach out to in order to source content previously unavailable to them.
The quality of DDS' data is also vastly superior to what they had access to via other providers, which their customers have remarked makes the site easier to search and provides more detailed information to help them make procurement decisions.
Best of all, implementing more and better content on their site had an immediate and profound impact on site conversions: their online sales volume doubled in the first 60 days after upgrading to DDS' content.
And since partnering with DDS, Granite City no longer has to spend time chasing data from suppliers and then manipulating it for display on their website.
In short, DDS has helped Granite City offer a better customer experience and increase sales, while at the same time streamlining their entire e-commerce data process so they can remain focused on serving customers.
Now that's a win-win-win!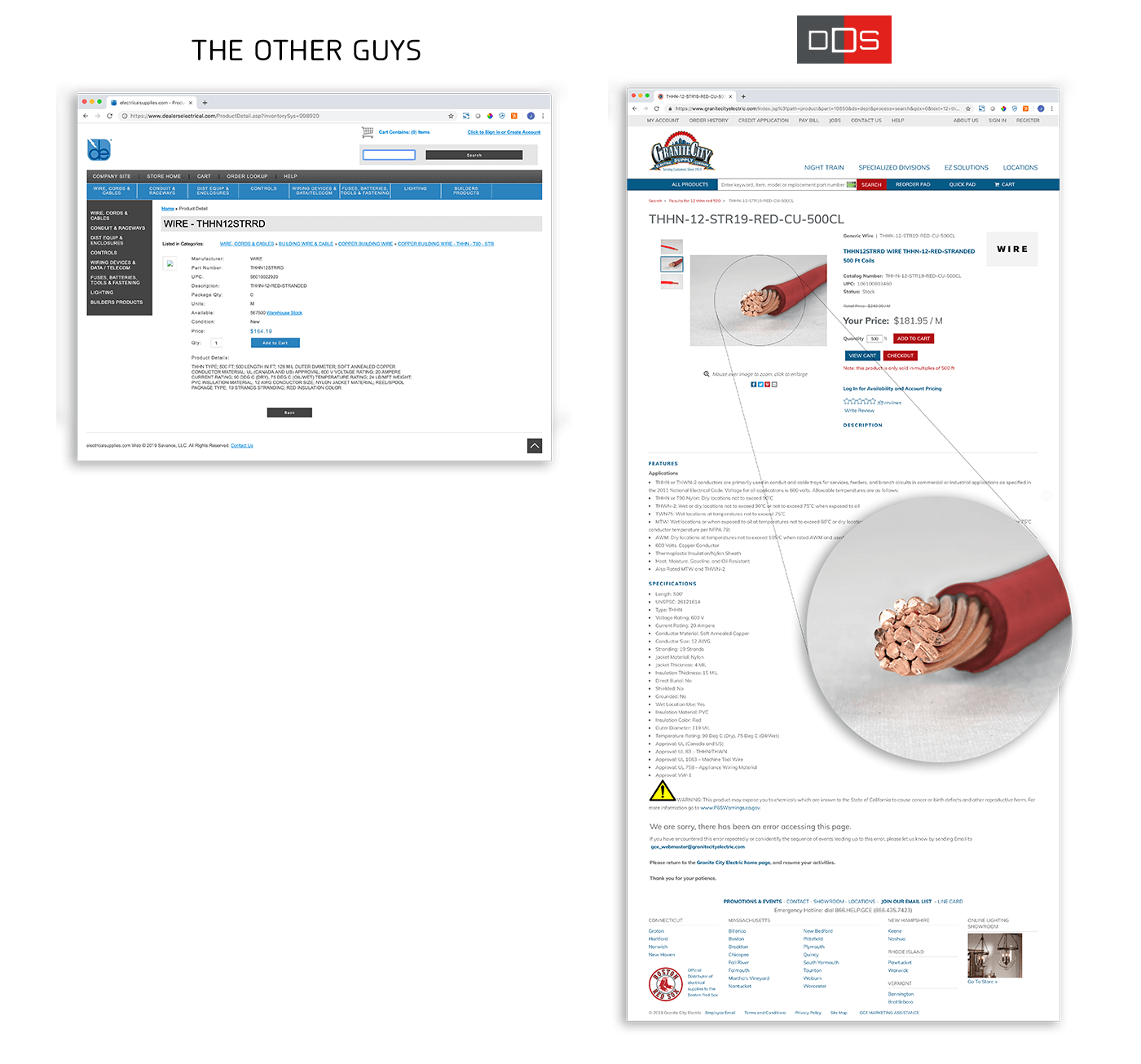 When it came to our e-commerce data, we were more than willing to reach outside to find a qualified company to handle it for us. DDS was a perfect fit. They eliminated much of our e-commerce data headaches, they own the entire process. They have taken the burden off our team, so we can stay focused on our core competency, serving our customers.  The results we have been able to achieve using DDS have been remarkable, I would recommend them to anyone!

– Greg Smith, Former Executive Vice President – Granite City Supply Company