The Power Of ETIM
A language-independent classification model, ETIM seamlessly converts product information into alphanumeric codes for reliable transmission across countless languages and software platforms, enabling product content to be conveyed appropriately and efficiently throughout the electrical ecosystem.
From manufacturers' internal environments, to distributor ERPs and webstores, to the myriad of applications for architectural and systems design, like estimating software, CAD and BIM, streamlining the exchange of information helps optimize processes, supports profitability and enables the correct products to be specified and installed.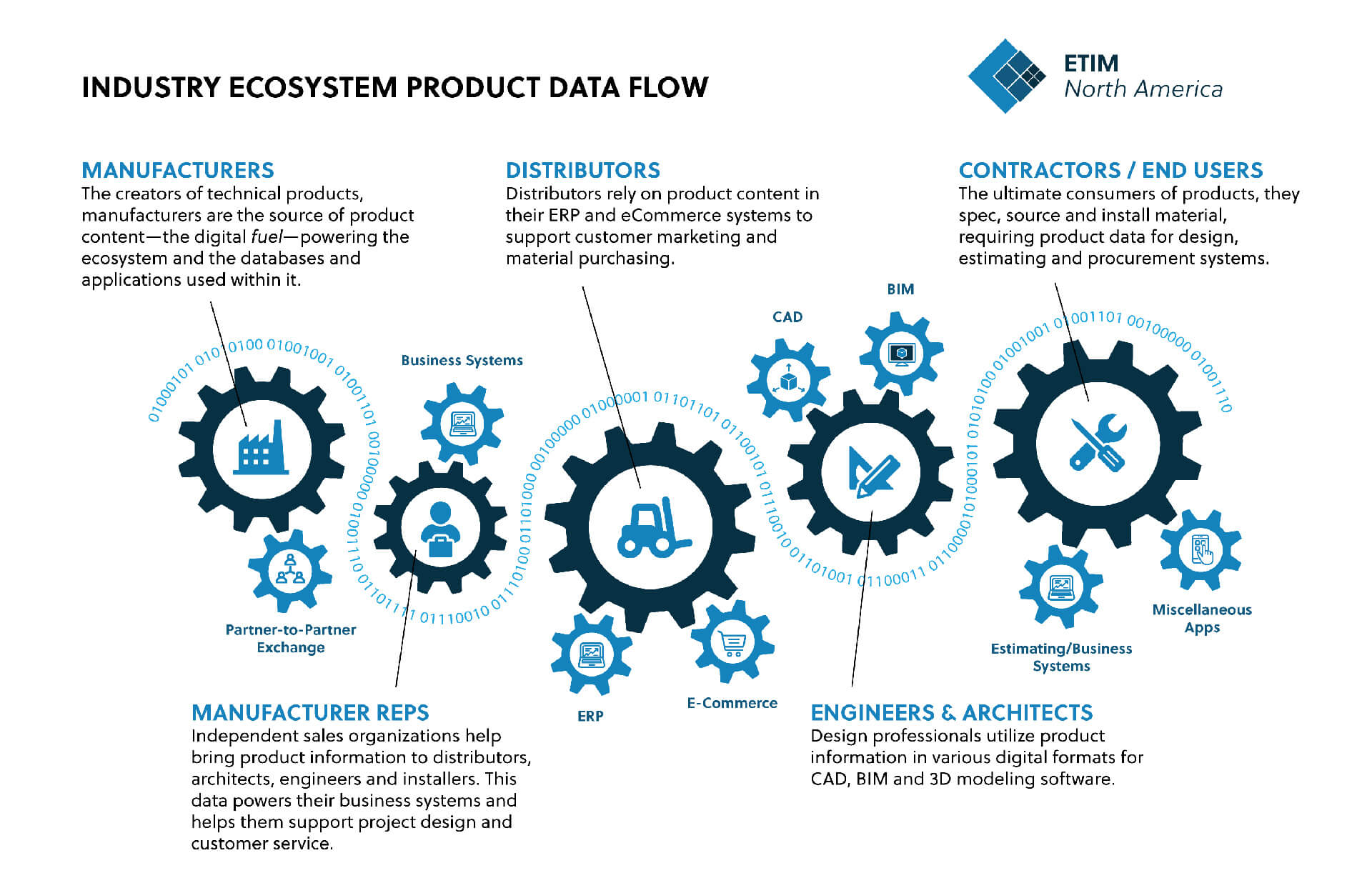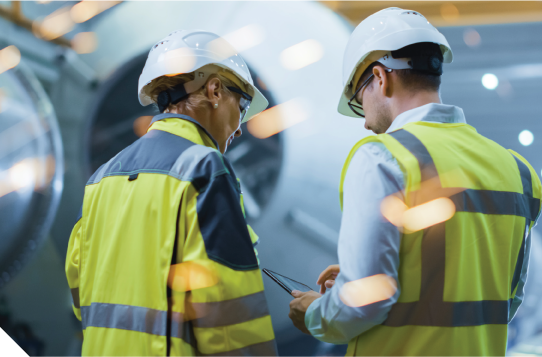 Good For The Entire Industry
A proven data classification model used globally by manufacturers, distributors and other industry professionals, ETIM facilitates the flow of consistent content throughout the entire ecosystem of the electrical industry.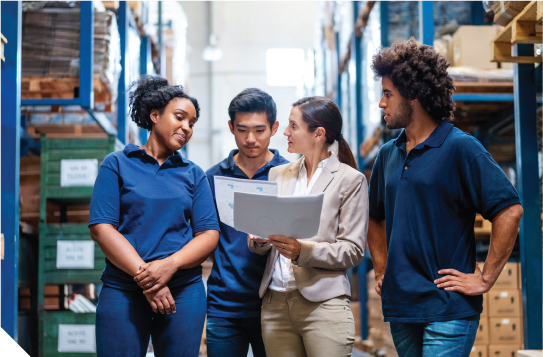 Collaboration Is Key
The power of ETIM is the collective; the model has proven successful through independent and sector-wide collaboration of industry professionals. Lend your product experience and expertise to benefit the industry and become a member of ETIM North America (NA).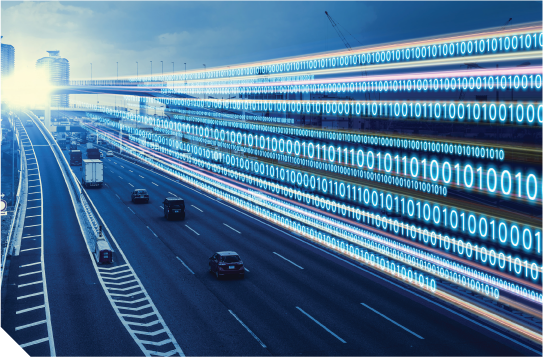 How ETIM Works
An international model for the standardization and classification of technical product data, ETIM enables the efficient exchange of product data through the use of alphanumeric codes for all product groups, classes, synonyms, features, values and units.
Every product attribute can be coded, making it easy for the information to be translated across languages and business systems.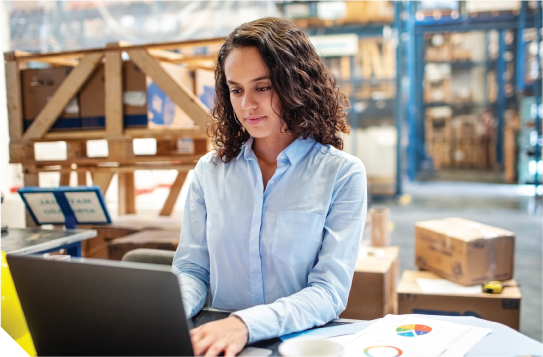 A Formula For Succes
ETIM standardization removes ambiguity within technical product data by ensuring the same terminology is being used industry-wide, and globally, to describe the same product attributes, which streamlines the transfer of information, eliminates product substitution errors, ensures clarity in product communication throughout the supply chain, and facilitates online trading and other digital applications.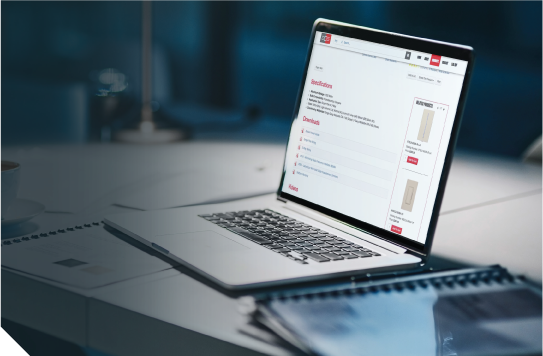 A Solution For The Future
Having a simple, adaptable product classification model that is reliably kept up to date by manufacturers offers a number of advantages of increasing importance as digitalization grows. ETIM is a stable, yet flexible standard that is future-oriented and able to grow along with technology and other industry advancements.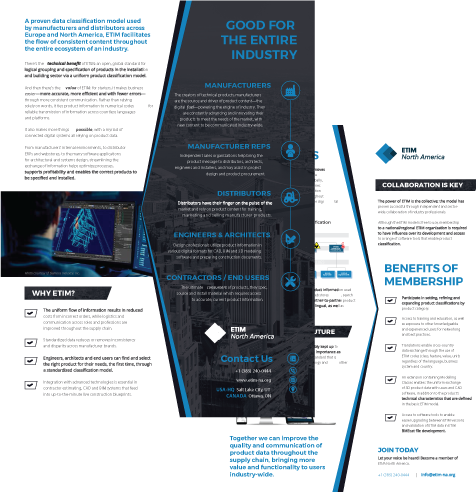 Why ETIM?
The uniform flow of information results in reduced costs from incorrect orders, while logistics and communication across roles and professions are improved throughout the electrical industry supply chain.
Standardized data reduces or removes inconsistency and disparity across manufacturer brands. Core product information is retained and manufacturers can differentiate themselves via marketing content and terminology.
Engineers, architects and end users can easily find and select the right products for their needs, the first time, through a standardized product classification model.
Download Now
Participate in setting, refining and expanding product classifications for your product category(ies).
Access to training and education, as well as exposure to other knowledgeable and experienced users for networking and best practices.
Translations enable cross-country data exchange through the use of ETIM codes (class, feature, value, unit) regardless of the language, business system and country.
Modelling Classes enable the uniform exchange of 3D product data with users and CAD software, in addition to the product's technical characteristics that are defined in the basic ETIM model.
Together we can improve the quality and communication of product data throughout the electrical supply chain, bringing more value and functionality to users industry-wide.
Become A Member Of ETIM North America
Although the ETIM model is free to use, membership in ETIM NA is required to have influence over its development and access to a range of software tools that enable product classification.
Let your voice be heard! Become a member of ETIM North America.
JOIN ETIM NA